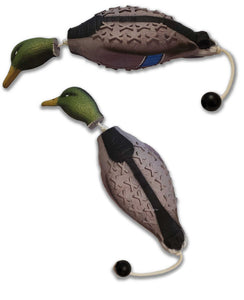 Train-R-Drake Mallard simulates a full size duck with weight and size, the PVC outer body with foam inner creates the realism of a floating bird.
Raised X patter allowing the dog to grip the bird firmly.
Soft and firm head discourages head-shaking without hurting or harming the dog.
Long throw rope with plastic knob create a easy longer distance toss.
PVC outer coating is water resistant preventing the dummy from filling with water and becoming heavy.
Foam inner core is scent injectable allowing your dog a more realistic retrieving experience.